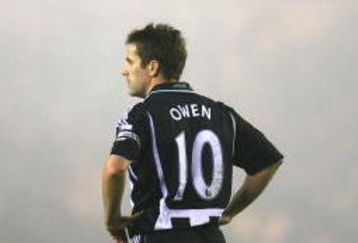 In the biggest surprise of the transfer season, Michael Owen is set to join Manchester United on a free transfer.
Having miraculously passed an initial medical on his knee and arrived at the training ground at Carrington, it seems like this isn't just a rumour.
Yes, Owen looks set to join United with a pay-as-you-play deal.
Many fans would scream in outrage, thinking that he would be a waste of space in the squad and would not be able to contribute much to the team.
Many people would claim that signing Owen is just like re-signing Louis Saha. He'll be perpetually injured, and just when he's getting a regular run of games, he'll get injured again.
Their claims are not unfounded. Over the past four seasons, he has made a meagre 58 Premier League starts due to his injury record. That is the number of appearances a first team player can make at United in just one season.
True, he has lost a yard of pace. True, he hasn't exactly set the Premier League alight at Newcastle. Who expects it from him, though, in a team that had no continuity and had many off the pitch problems?
Then there are those who will claim that he is unable to replace Carlos Tevez and Cristiano Ronaldo. I agree, he definitely cannot replace the two. However, is he supposed to?
Owen brings with him guile and a lethal finish. He isn't as fast as he used to be, but get the ball into the box at his feet, and he will finish it off for you.
Tevez did bring energy to the team, but he was never a clinical finisher; 19 goals in 63 games for United is not a good record. In fact, Owen's scoring record at Newcastle is better than Tevez's, with 26 in 71.
Ronaldo is an irreplaceable player, so comparing Owen to him would be ludicrous. You don't compare the world player of the year to a player who has been dogged by injuries and an inconsistent run of games.
However, Owen has a point to prove next season, as it will probably be his last chance to get to the World Cup. He will be hungry, and he will be at his sharpest again.
A pay-as-you-play deal means that he won't be earning while sitting on the bench. Owen will need to perform, and he will, especially with the service that he will get from United's team.
Remember that Ferguson has done this before. He signed Teddy Sheringham when he was at a ripe old age of 31, and Sheringham contributed many crucial goals (31) in over 100 appearances, many coming off the bench. The most important was the last minute equaliser and then his deft flick-on onto Ole Gunnar Solskjaer's boots for the winner in the 1998-1999 Champions League final.
With Owen, United get a player who is willing to sit on the bench and come on after 60 minutes when the opposition defence is tired, or to come on to play off the shoulder of the defender when you need goals.
For a free transfer, this might be the shrewdest signing Ferguson has made this season, and he can use the 80 million pounds to capture players while already knowing that some of the scoring burden has been taken off Wayne Rooney and Dimitar Berbatov.
It promises to be very exciting indeed.